Moneyball - the book and 2011 movie - tells the fun story of a small-market, major league baseball team's rise from obscurity to a champion. The Oakland Athletics (A's) discovered and harnessed the power of data through Sabermetrics - the pursuit of objective knowledge about baseball. With a third of the New York Yankee's budget plus Sabermetrics, the A's accomplished more, winning the same number of games and beating the mighty Yanks in the divisional championship series.

A similar fun and rewarding story awaits building owners and their teams in the pursuit of objective knowledge about construction. The implication is profound. Today's planning, design, and construction support activities take at least three times more effort than necessary. That's why construction escalation has doubled the rate of national inflation since 2004, and why today's projects cost 42% more than necessary, and take far too long to produce.
We all know that fragmentation is our biggest problem. McKinsey tells us that mis-aligned contracting structures are also a major culprit. Both of which are cause by, and contribute to, a lack of objective knowledge. Figure 1 shows our multi-faceted siloed and fragmented state - even before groundbreaking.

Figure 1 - Pre-construction Siloes
Building CATALYST and good data solves the lack of knowledge problem by also solving the information silos and fragmentation problem. Objective (aka impartial, unbiased) knowledge is key solving the mis-aligned contracting problem. It's achieve in three steps:

Step # 1 - From Dead Data to Living and Active Knowledge
You are sitting on a data gold mine waiting to be extracted and put to good use. Together we can convert your unstructured and mostly useless data into a remarkable knowledge resource. Within days you can experience how your project and/or marketwide data is put to use to predict project outcomes far more accurately. This becomes the first step to: reducing uncertainty and risk; to steering project outcomes to optimized results; and finally reducing waste.
What Data?
The secret is found by networking the most critical (aka Pareto) data from all first-tier stakeholders: Owner, Architect, Builder (and their subcontractors), and across all key information sources: space program, design model, schedules, estimates, and contracts. Figure 2 shows the nucleus of critical cause-and-effect data - and how downstream detailed applications are placed in a data system through Building CATALYST. CATALYST provides the data and technology platform to repace our current siloed approach (Figure 1 above) with a systems approach. Building CATALYST is unique in that it can reliably predict outcomes based on the actual causes that determine those outcomes.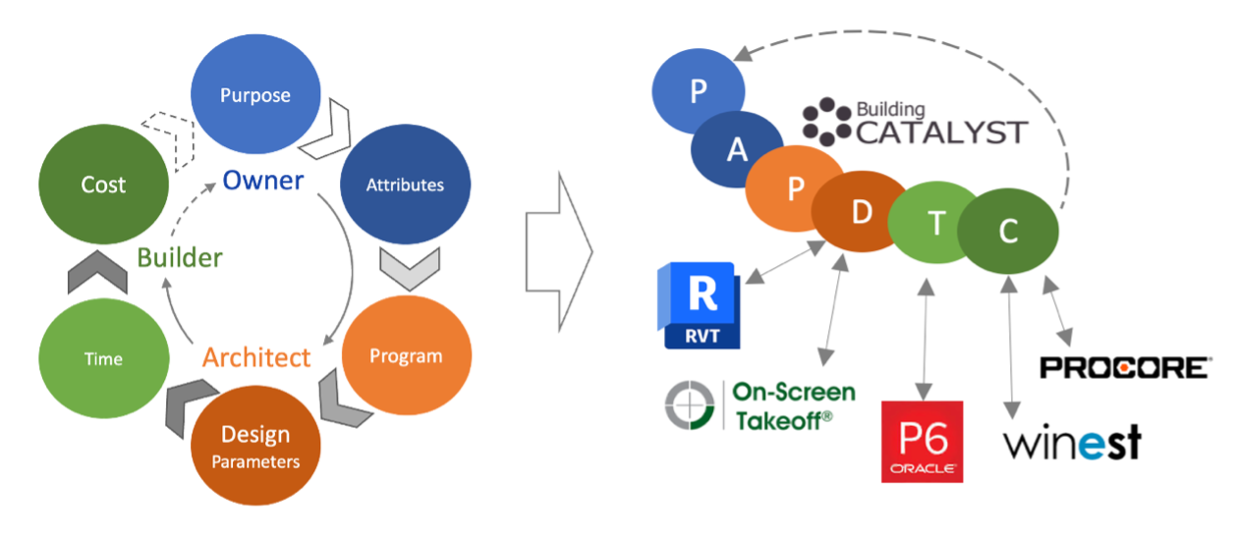 Figure 2 - Construction as a System

The primary causal data includes functions and attributes. Functions (i.e., CT Scanning) are organized by departments (i.e., Radiology), which are organized by building purpose (i.e., Medical Center). Attributes are the constraints, demands, conditions, and requirements that determine, for example, the difference between a CT Scanning installation in poor, rural Mississippi from that in upscale, dense urban New York.
The space program, building configuration, massing parameters, etc. are derived from the functions and attributes. These can be extracted from the drawings. And, finally, the construction cost, albeit in need to re-mapping, can be extracted from builder estimates and pay applications. In some cases, builders capture schedule milestone data. Structuring and capturing schedule and production data becomes more critical as we more purposefully pursue process and value improvement strategies.
To prove that the systems approach works, we at Building CATALYST have extracted unstructured historical data from myriads of projects from coast-to-coast. We have then conditioned, mapped, and imported it into a global database to convert it into a powerful knowledge system. This data comes primarily from the drawings, estimates, and payment applications.
Everything's now in place to move from this manual historical data collection and conditioning process to an automated one. This article: Why Structured Data? shows how builders can help lead construction's transformation. The data rides for free when it is properly structured and submitted to a processing system like Building CATALYST.
Owners, all you need to do is provide drawings and builder data. We'll do the rest. Builders, let's talk about a fun and easy way to transition from your siloed approach to a systems approach. Once your CEO or C-suite captures the vision, its mostly a downhill effort. Let's get started >


Step # 2 – From Objective Knowldge to Advanced Planning and Preconstruction
With Building CATALYST owners, and/or their representatives, take control the planning, budgeting and cost management from the top-down. As architects and builders adopt the systems approach, then more advanced and collaborative forms of planning and preconstruction emerge. This makes many of the lean construction and VDC process improvements measurable and, therefore, valuable.
The systems approach enables teams to perform in minutes, or over the course of a meeting, what would take weeks and many meetings to accomplish using our current siloed approach. And it does so more accuratley and impartially. As shown in Figure 3, CATALYST predicts the building size, time, and cost. These can be displayed at a high level, and then drilled down into the details.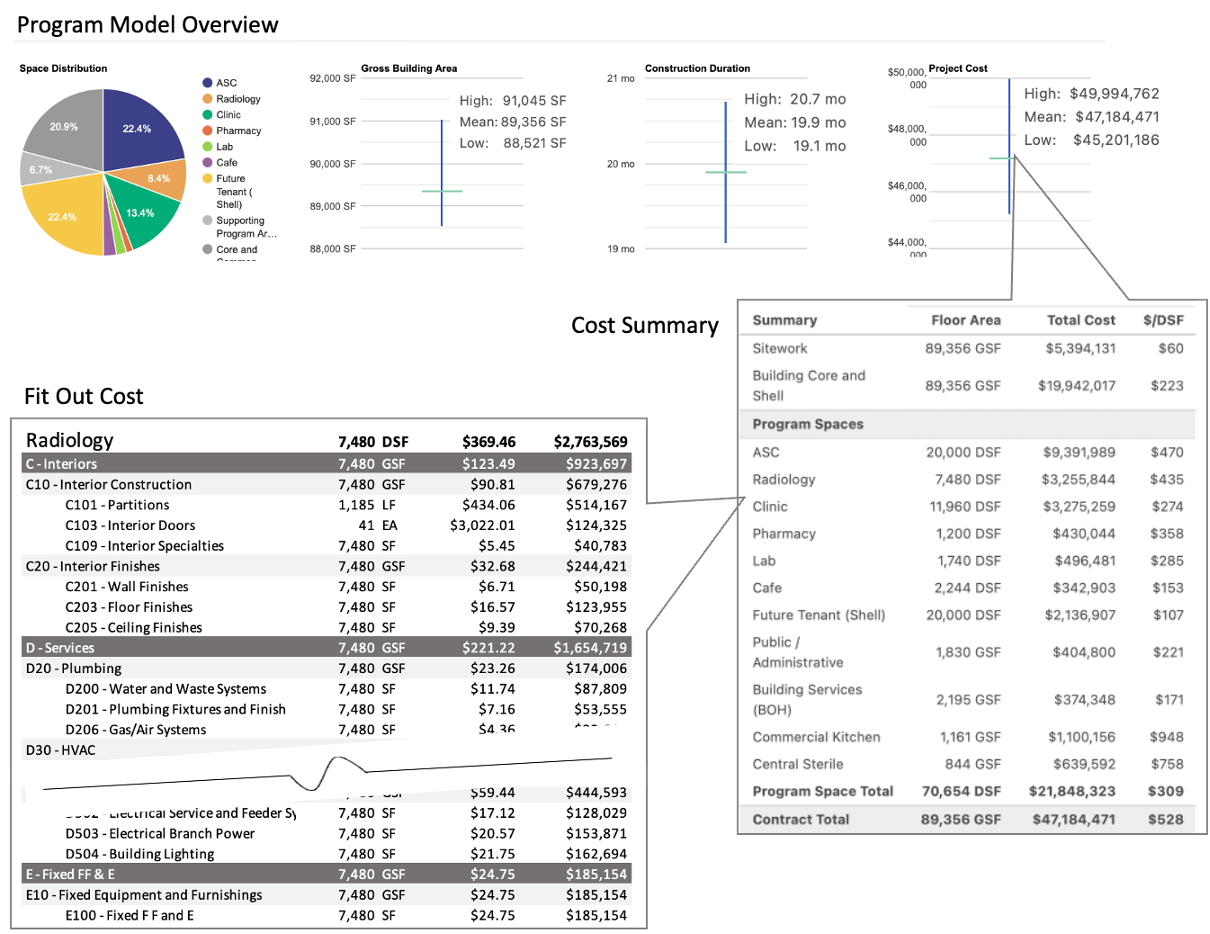 Figure 3 - Reporting from Summary to Detail

CATALYST enables you to rapidly model and compare multiple building solutions at any stage of planning and early design. It also enabes you to track and steer project outcomes, as shown in Figure 4, from early planning to final completion.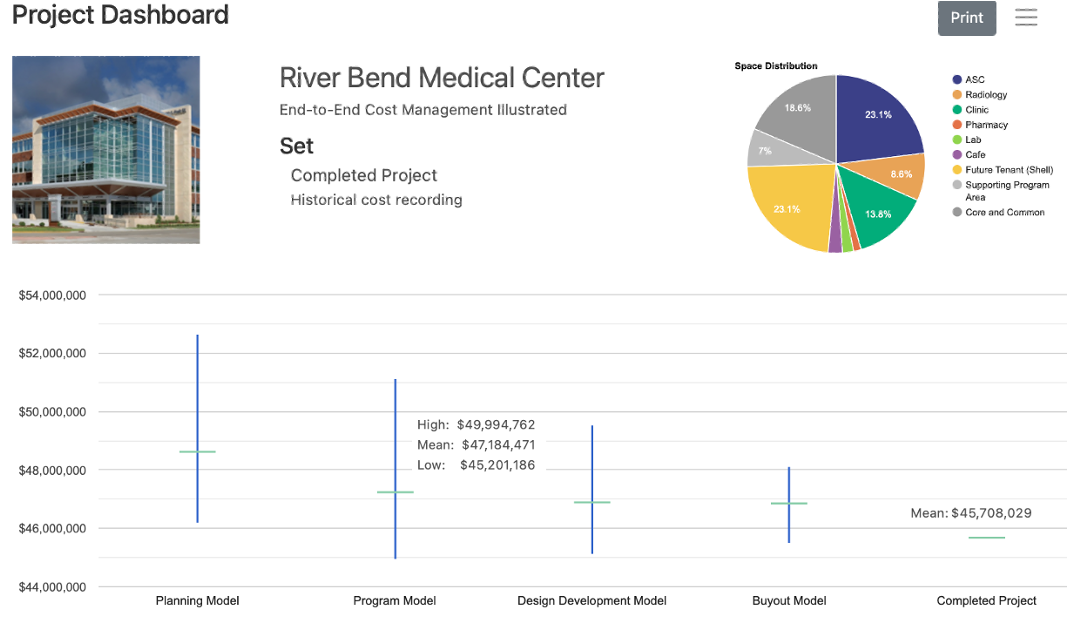 Figure 4 - Dashboard showing the Steering Process
You will soon discover the many benefits from the knowledge that CATALYST provides. Excessive construction cost is rooted in uncertainty and risk. The first stage of benefits that CATALYST and good data provide, include:

Feasibility studies to determine if new or renovated building solution is viable.
Analysis of different sites or building solutions to best balance purpose, scope, and cost.
More reliable and impartial program and budget setting.
Avoiding the super-excessive (fat-tailed) projects that are growing at an alarming rate.
Providing more stable results by steering decision-making toward more certain outcomes.
Removing the highest levels of waste associated with uncertainty and bias.




STEP #3 - From Advanced Planning to Transformation
McKinsey 2017 report Reinventing Construction sites misaligned contracting structures as a problem that needs to be solved. As long as design and construction profits are based on a percent of cost plus billable hours – excessive project costs will continue.
Owners can start by removing the top-most layers of waste on projects. The steps include:
Find and engage top project leadership (internal or owner reps) that are equipped (with knowledge) and compensated based on measurable value improvement.
Establish and implement measurable standards for quality, production, and value.
Select the Architect and Builder based on data from past projects and their response to standards.
Modify compensation based on the established measurable standards.
The basic universal and Building CATALYST principle is "you can't improve what you can't measure."
Builders don't need to wait for owners to change the planning, budgeting, and contracting processes. With Building CATALSYT, the builder can and should be the agent to integrate top-down and bottom-up strategies.
The End Game
Building CATALYST and structured data is just the starting point for a fully standardized, integrated, and automated construction support system. With decades of accumulated waste throughout the construction support services, the opportunity to eliminate time and cost is enormous.
We at Building CATALYST have developed comprehensive playbooks for owners and builders to continue from Step 2 to the full systems approach. We are eager to combine your expertise with our system of knowledge and process improvement to help reinvent the construction process.